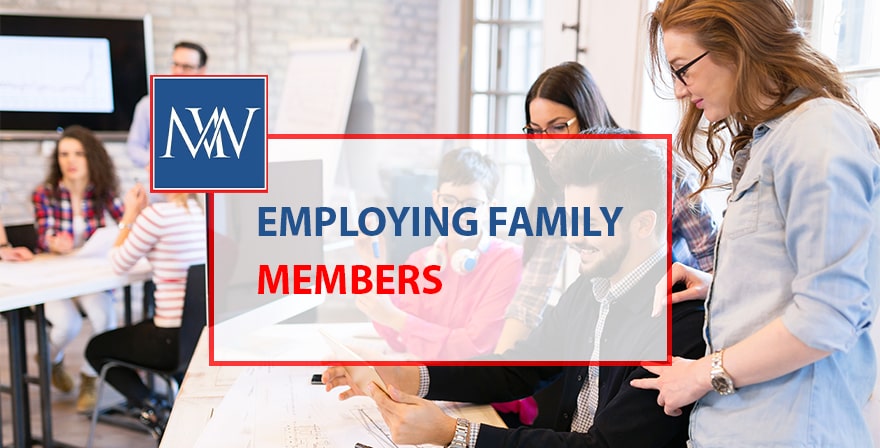 Employing family members
It is permissible for a business to claim a tax deduction for the cost of a reasonable wage paid to a family member who helps in the business. Their duties could, for example, include answering the phone, going to the bank, bookkeeping and other administrative tasks.
The tax legislation specifies that 'in calculating the profits of a trade, no deduction is allowed for expenses not incurred wholly and exclusively for the purposes of the trade', which indicates that as long as the work is undertaken, the payments are realistic and actually made, there should not be a problem with claiming tax relief.
The benefits of spreading income around family members where possible include maximising the use of annual personal tax allowances (£12,500 per individual (children and adults) in 2019/20), and potentially taking advantage of nil and lower rate tax thresholds.
'Family' could include anyone who depends on the owners of the family business for their financial well-being (for example, elderly relatives and/or long-standing domestic staff members), but care must be taken not to fall foul of the 'settlements' legislation and other anti-avoidance measures in force at the time.
Keeping records
The tax-deductibility of wages paid through a business has recently been examined by the Tax Tribunal. The business owner claimed that wages paid to his son had been paid partly through the 'provision of goods'. He managed to substantiate some cash payments and a monthly direct debit (for insurance costs) by reference to his son's bank statements. However, the bulk of the claim was based on buying food and drink to help support his son at university. Unfortunately, the tribunal concluded that the payments were made out of 'natural parental love and affection'. There was a duality of purpose as the 'wages' had a major underlying 'private and personal' motive, and thus not for the purposes of the trade. The tribunal subsequently dismissed the appeal on the grounds that the business owner was doing nothing more than supporting his son at university.
The outcome of this case could have been very different if the business owner had used an alternative methodology for paying his son's wages. In particular, the judge noted that had payment been made on a time recorded basis or using some other approach to calculate the amount payable, and had an accurate record been maintained of the hours worked and the amount paid, it is unlikely that the deduction would have been denied.
In particular, this case highlights the importance of maintaining proper records regarding the basis on which payments are to be made to children. A direct link between the business account and the recipient's account would clearly be advisable.  For example, if the business owner had paid the wages directly into his son's bank account, leaving the son to purchase his own food and drink from the money he earned from his father, bank statements could subsequently have been used to provide evidence of what had been paid and this could be linked to the record of hours worked. Maintaining the link is the key issue here.
Rate of pay
It is also worth noting that HMRC examine whether a commercial rate is being paid to family members. The concept of 'equal pay for equal value' should help prevent a suggestion of dual purpose and thus, in turn, should also help refute allegations of excessive payments to family members as a means of extracting monies from the business.
Finally, wherever payments are made to family member, legal issues such as the national minimum wage should also be borne in mind.
For more information, Book a Free Consultation
Our Offices
Makesworth Accountants in Harrow
Unit-101, First Floor,
Cervantes House, 5-9 Headstone Road,,
Harrow
,
London
HA1 1PD
United Kingdom (UK)
Phone:

020 7993 8850
Fax:

020 7183 5320
Email: info@makesworth.co.uk
Makesworth Accountants in Central London
63/66 Hatton Garden
Fifth Floor Suite 23,
Central London
,
London
EC1N 8LE
United Kingdom (UK)
Phone:

020 7993 8850
Fax:

020 7183 5320
Email: info@makesworth.co.uk
Makesworth Accountants in Stratford
Balfour Business Centre, Suite B15
390-392 High Road,
Ilford
,
London
IG1 1BF
United Kingdom (UK)
Phone:

020 7993 8850
Fax:

020 7183 5320
Email: info@makesworth.co.uk
---
Makesworth Accountants in Glasgow
Unit 103, Nasmyth Building, 60 Nasmyth Avenue, Scottish Enterprise
Technology Park,
East Killbridge
,
Glasgow
G75 0QR
United Kingdom (UK)
Phone:

020 7993 8850
Fax:

020 7183 5320
Email: info@makesworth.co.uk
COUNTDOW TO YOUR SELF ASSESSMENT TAX RETURN
Need Accountancy Support?
For information on bespoke training, or if you have any other questions for Makesworth Accountant, please fill in your details below