Extension of the Coronavirus Job Retention Scheme
After the Chancellor's statement that the CJRS will be extended to 31 March 2021, HMRC have released a policy paper: "Extension of the Coronavirus Job Retention Scheme"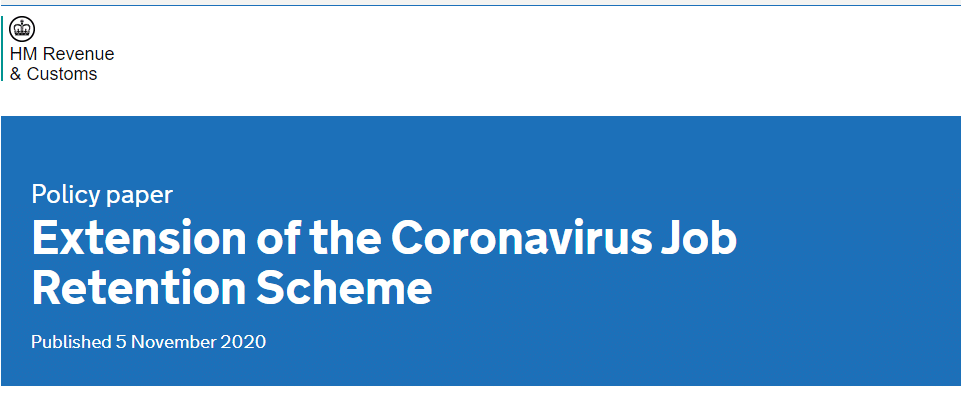 This policy paper applies for CJRS claims for the period starting on or after 1 November 2020 to 31 January 2021. Full guidance for the CJRS extension will be published on 10 November. The guidance for claim periods from February onwards will be published following the government's review.
The CJRS (also known as the furlough scheme) will remain open until 31 March 2021. For claim periods running to January 2021, employees will receive 80% of their usual salary for hours not worked, up to a maximum of £2,500 per month. The £2,500 cap is proportional to the hours not worked.
The government will review the policy in January to decide whether economic circumstances are improving enough to ask employers to contribute more.
Claims can be made by employers across the UK that meet the eligibility criteria.
This policy paper sets out updated details on:
eligibility criteria for employers and employees
what employers will need in order to claim
updated information on reference data to calculate those claims
Employers who can claim under the CJRS extension
Employers do not need to have used the CJRS previously.
EMPLOYER ACROSS THE UK CAN CLAIM, WHETHER THEIR BUSINESSES ARE OPEN OR CLOSED
The government expects that publicly funded organisations will not use the scheme, as has already been the case for CJRS, but partially publicly funded organisations may be eligible where their private revenues have been disrupted. All other previous CJRS eligibility requirements also apply to these employers.
HMRC will publish details of employers who make claims under the extended CJRS scheme, starting from December. Full details will be included in full guidance which will be published on 10 November 2020.
We are working on the CJRS calculator although we need to wait until the 10 November when final details are released before we can finalise, check and release.
The policy paper can be seen here: https://www.gov.uk/government/publications/extension-to-the-coronavirus-job- retention-scheme/extension-of-the-coronavirus-job-retention-scheme
More information from the Government on yesterday's announcement can be seen here: https://assets.publishing.service.gov.uk/government/uploads/system/uploads/attachment_ data/file/932977/ECONOMIC_SUPPORT_FACTSHEET_5_November.pdf
For more information, Book a Free Consultation
Need Accountancy Support?
For information on bespoke training, or if you have any other questions for Makesworth Accountant, please fill in your details below