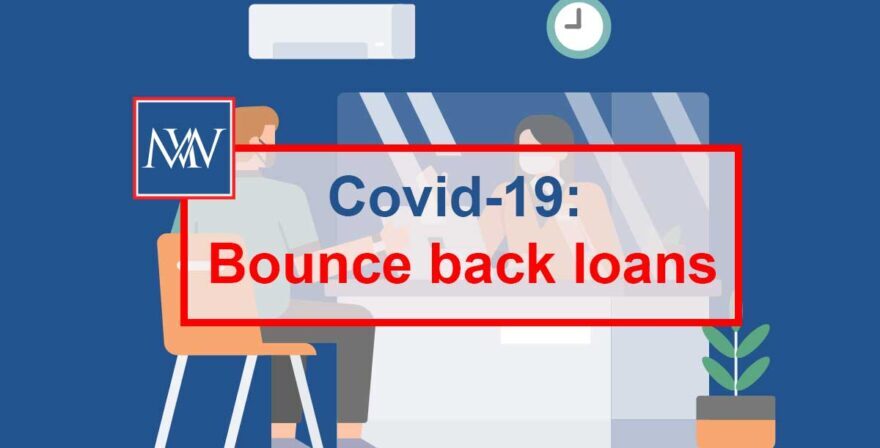 Covid-19: Bounce back loans
Small businesses struggling due to the coronavirus pandemic should be able to apply for a quick and easy-to-access loan of up to £50,000, with no interest charged or repayments needed in the first 12 months. Bounce back loans are 100% government-backed for lenders and businesses can expect to receive the money within days of making an application.
The bounce back loan may be a particularly useful support facility for those who have been unable to access the other support measures, for example, those who are self-employed but do not qualify for the self-employment income support scheme (SEISS), or for limited company directors.
Currently, businesses have until 4 November 2020 to apply for a bounce back loan, but the Government may extend this deadline if needed.
Bounce back loans are separate from the coronavirus business interruption loan scheme, which is for larger amounts, but not 100% government-backed.
The key features of the bounce back loan scheme can be summarised as follows:
The business can borrow between £2,000 and £50,000, although the maximum limit is capped at 25% of total turnover (usually for the 2019 calendar, or estimated turnover for a new businesses)
No interest will be charged, and no repayments will need to be made in the first 12 months of the loan period
After the first 12 months, all lenders will charge a fixed 2.5% annual interest, which is currently much lower than rates applying to a typical personal loan.
The loans are unsecured
Loans may be repaid early without a penalty charge being incurred.
To qualify for a bounce back loan, the business must have been established before 1 March 2020. It must also still be trading as a going concern, although temporary cessation due to coronavirus is unlikely to affect the application. The reason for the loan must be due to coronavirus-related issues, but a bounce back loan can be used to repay existing finance. It is not necessary to prove the viability of the business and the application process is relatively straightforward.
The Government says that credit ratings – business or personal – will not affect eligibility, so most businesses should be able to access this support facility.
There are currently 11 lenders participating in the scheme including many of the main retail banks. The lender will decide whether to offer a loan or another type of finance.
It is worth noting that although the applicant needs to have an eligible business to obtain a bounce back loan it is not a requirement to hold a business bank account and, since some lenders do not require the applicant to hold a business account with them, there should be a wider choice of options available.
It is also worth noting that bounce back loans do not affect eligibility for other coronavirus-related government support. For example, it is possible to obtain a bounce back loan alongside self-employment income support grants and/or universal credit.
In summary, bounce back loans may be a good, cost-efficient option for smaller businesses experiencing financial difficulties due to the coronavirus pandemic. Loans will initially run for six years. They will be interest-free for the first 12 months, and no repayments will be necessary in the first year. After that, annual interest will be charged at 2.5%. A loan may be repaid at any time, giving businesses maximum flexibility as, hopefully, they begin to recover – the sooner the loan is repaid once interest is being charged, the smaller the overall cost.
For more information on Bounce back loans, Book a Free Consultation
Need Accountancy Support?
For information on bespoke training, or if you have any other questions for Makesworth Accountant, please fill in your details below